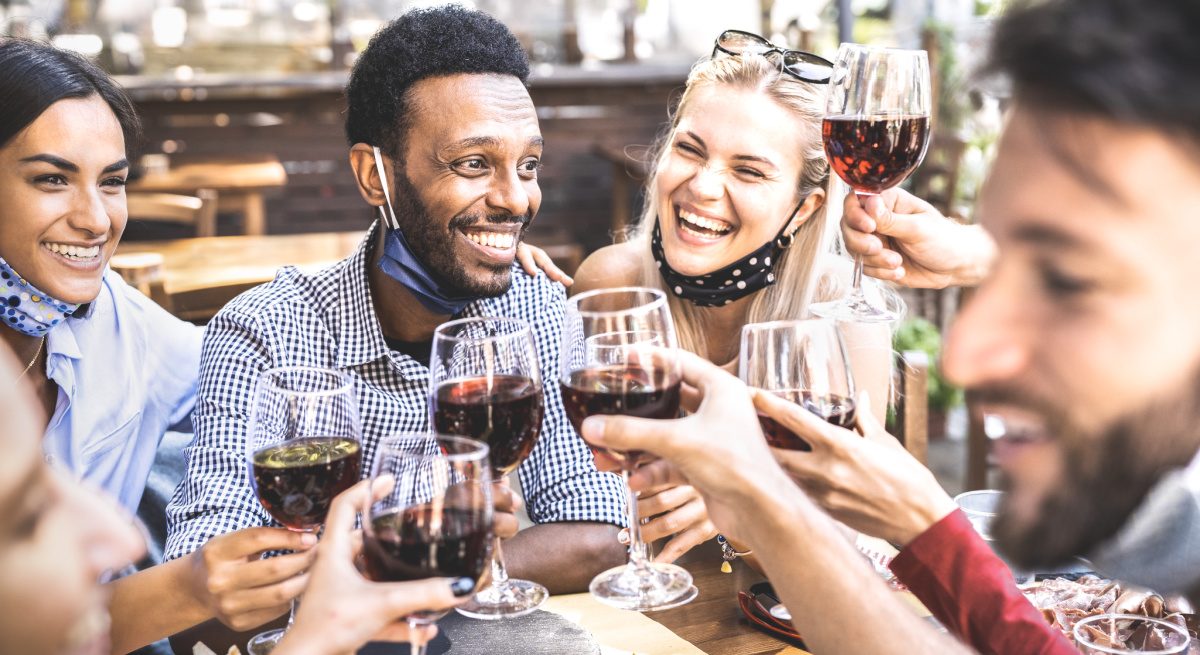 The pandemic has destroyed many businesses in the country and few industries have been hit as hard as the restaurant industry. Thousands and thousands of restaurants have been forced to close for safety reasons, some permanently. Now more than ever, restaurant owners need to improve the way restaurants are run to survive these uncertain times. Consumers and customers changed their behavior because of the events of the previous year.
So it makes business sense to overhaul your marketing strategies. Focus on changing your restaurant processes to accommodate new realities and to reach customers living in your local areas.
Today, take a look at the effects the pandemic has had on the restaurant and foodservice industry, as well as five simple yet effective marketing techniques to promote your local business.
The pandemic and the restaurant business
It combined the necessary security protocols and increased risk of catching the virus inside the closure of most businesses in 2020. Restaurants were hit harder than most because many food-related businesses were not ready to switch to digital services.
According to a survey, more than 110,000 restaurants and drinking establishments have closed as a result of the pandemic. This number included restaurants of all sizes, from huge international restaurant chains to small boutique dining experiences. Many of these restaurants have been closed as a precaution, to prevent people congregating in small areas where face masks need to be removed.
However, many small restaurants do not have the resources to stay closed for more than a few weeks. With costs such as rent, food supplies and wages, it is no wonder that many restaurants doubt they can improve. According to another study conducted by the National Restaurant Association, 52% of restaurant owners do not think they will be able to recover from the impact of the 2020 pandemic.
So what can restaurant owners do to survive the difficult times they are experiencing now and the difficult times ahead? While there is a variety of funding available, if you want your restaurant to survive, you will need to increase your marketing efforts, especially your local people-focused marketing efforts.
Five local marketing strategies
Any credible digital marketing provider will tell you that the best aim of any marketing campaign is to attract local businesses. Even in today's increasingly digital and connected economy, local customers still make up most of your restaurant's profits.
Too many restaurants are trying to attract more and more markets when their services are probably not attracting or even reaching this audience.
Smart restaurant owners know that attracting a local customer and maintaining his loyalty is worth a thousand likes or views from people across the country. Improving your marketing strategies is just as important as avoiding marketing mistakes.
Below are five ways to improve your local marketing techniques. This way, you can ensure that your restaurant has a steady supply of customers from your community who can keep you in the shade.
1. Highlight your safety and hygiene protocols
The pandemic has changed customers' priorities for the businesses they attend. According to a survey, 77% of consumers are now more interested in restaurant protocols and hygiene protocols. This is perfectly understandable given the nature of the current crisis. Refer to local health experts and Centers for Disease Control recommended guidelines to determine these steps.
Make sure the locals know the measures your company is taking to ensure the safety of customers and staff.
On your website, create an easy-to-read infographic that summarizes the protocols you follow. It highlights security protocols that also improve the convenience of your service, such as contactless payment, curbside pick-up options, and fast collection. Make sure you follow these safety guidelines legally as your customers' trust is an invaluable marketing asset.
Enforce the use of face masks for employees and customers. Highly publicize your commitment to these health and safety guidelines on your social media page and website. You can also make posters and leaflets with your own safety protocols to make sure everyone knows you're doing your bit to make sure hygienic food is prepared on your premises.
2. Collaborate with other local businesses
Local businesses need to come together in the current climate to ensure their joint survival. Search your local business listings for companies that can complement your restaurant services nicely. The best options for such partnerships boil down to suppliers and additional activities.
Vendors refer to businesses that supply the restaurant with the raw materials and equipment needed to run a business. Switching to local suppliers can be a very affordable way to cut down on your restaurant overheads. This is because you can expect lower prices due to the shorter distance between you and the companies supplying your goods. You can also expect higher quality, fresher goods as the food will not have to wait for transport for long.
Ancillary businesses are those businesses that have goods and services that work well with yours.
For example, most restaurants partner with or subscribe to food distribution apps, such as Food Panda, so you may not need to hire your own distribution staff. The type of complementary business your restaurant should partner with depends on your needs. If you run a restaurant focused on pastry and confectionery, you might want to partner with an event planner specializing in birthdays.
Make sure both of your businesses market the fact of your partnership. Issue press releases or email customers about the partnership. You may also consider offering promotions or discounts to customers who will buy your products through your local partnerships.
3. Contact local gourmets
Social media influencers are furious with promotional material and their reach is undeniable. Some influencers have hundreds of thousands of followers, and their recommendations can mean hundreds of dollars in business to your restaurant. Instead of targeting or collaborating with influences operating nationally or internationally, opt for outreach to local and small-scale food enthusiasts or reviews.
These people will have significantly less reach and fewer followers, but they are part of your community. Their followers will probably be other people in your area and their sponsorship will mean more than a thousand pages from users from other countries. Also, these local gourmets and food bloggers will be much cheaper to partner with than top tier influencers.
Contact local food bloggers and reviewers and ask them if they are willing to work with you to get honest reviews of your restaurants. Send them a selection of your favorite food and ask them to post about it on their blogs or social media feeds. This kind of direct interaction with local, small-scale social media influencers can help you spread the word about your restaurant and, in turn, attract more customer attention.
4. Subscribe to local directories
People are looking for more and more restaurants online. According to a report, up to 77% of dining people will search for a restaurant online before ordering or visiting. This means that it is vital that consumers not only find you through search engines, but that they see favorable reviews of your restaurant online. Digital marketing strategists will highlight that subscribing to online directories is an excellent way of expanding your online reach.
Register your restaurant for online listings, such as Google My Business and Yelp. These online directories not only allow consumers to leave positive reviews about your restaurant, but the information you provide on these platforms also helps distribution drivers and customers determine your physical location .
Online directories will also include your contact information and other details that will allow customers who are curious about your restaurant easy ways to call you.
5. Be more active in the community
Finally, there are few things that can help your restaurant get to the forefront of awareness in your community than being more active in it.
Collaborate with local causes, such as homeless shelters, reading initiatives, and environmental clean-up efforts. This will generate good publicity for your restaurant and show that your business is ready to give back to your community. Large community events may be rare in the near future, but even small efforts like bench repainting and tree planting efforts can still be noteworthy and generate excitement for your business.
Last year was unbelievably hard on restaurants. But thanks to the resilience of restaurant owners like you, the industry can still survive. Improving your marketing approach and targeting local customers is just one way to ensure your restaurant not only survives, but thrives for months to come.